I
I was SUPER privileged to tag along on this amazing proposal at Rice University's new and beautiful Skyspace. Ann's a good friend of mine since middle/high school and I met Alex later at my home church, so I was incredibly excited for this opportunity! Alex called me about a month prior to this proposal with his plans and I knew I'd be onboard since I love shooting proposals! Alex and Ann are both med students at the Baylor College of Medicine are planning on getting married later this year.
Here is part one of two on their proposal, along with Ann's perspective of the WHOLE day: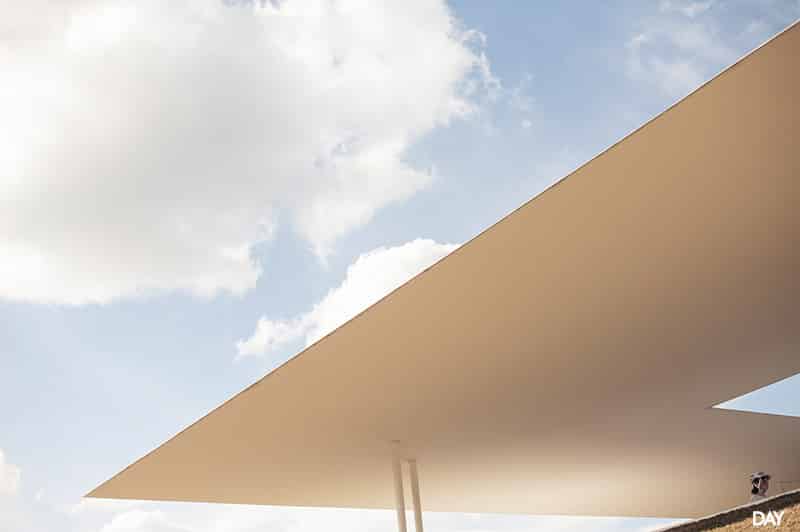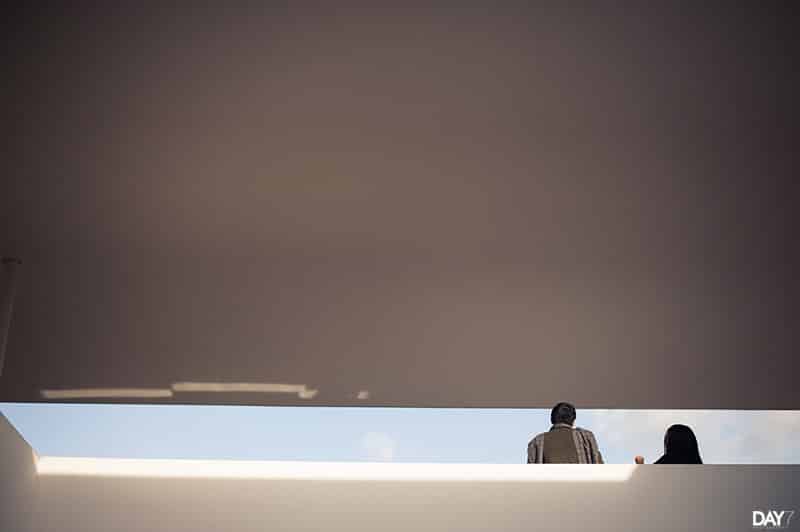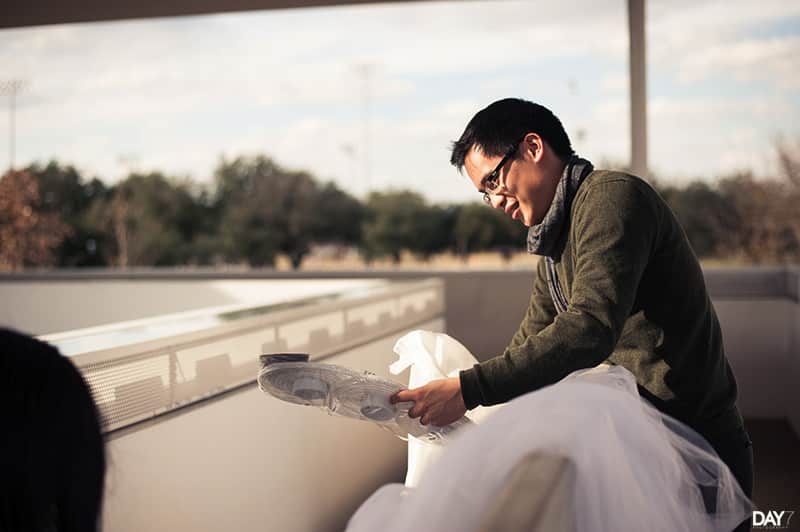 When Alex and I first started talking about marriage and engagement, one of the first things we agreed on was that our road to marriage had to be filled with meaning and the support of all the people we loved. The elaborate engagement surprise that Alex planned definitely met both those criteria.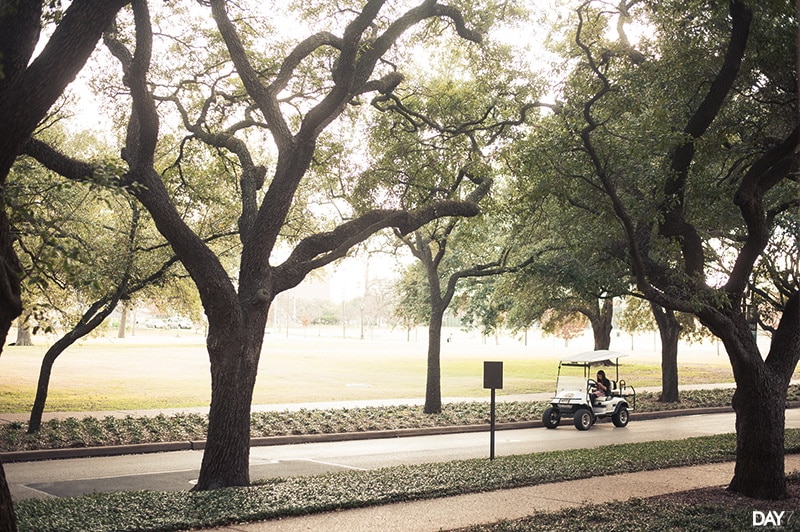 Two weeks earlier, my friend Hannah told me that she had won an architecture award and was invited to their awards gala. She said she was allowed to bring just ONE guest and she wanted to bring me! The day of the gala, I was running a little bit late and quickly dressed then rushed over to pick her up. I drove up to where she was waiting on the curb and stopped to let her get in, apologizing for being late. The first thing she said to me was "The gala's been cancelled!" I was super sad, then confused…why would they cancel on such short notice?! I looked around and saw an EMS golf cart parked nearby, then saw Sean and Nick, Alex's roommate, approach us. It hit me then that perhaps the gala wasn't actually…real. But what was coming was so much better 🙂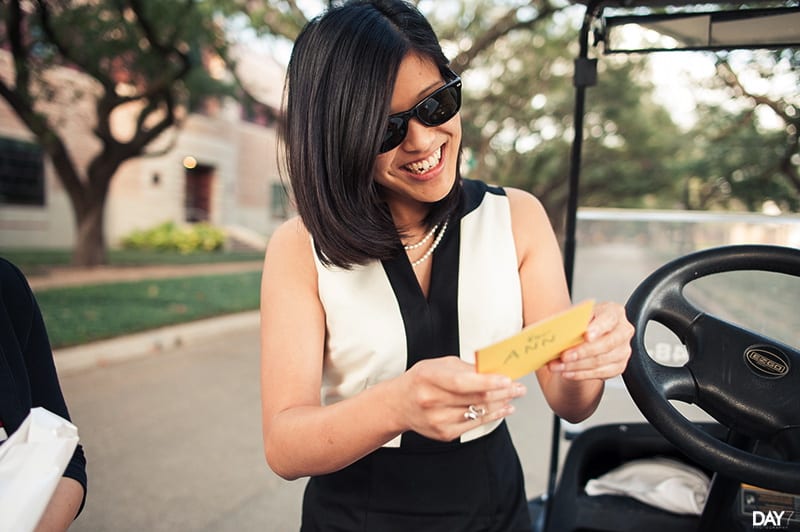 I've always wanted to drive a golf cart because they are an awesome and adorable mode of transportation. What better way to solve my engagement scavenger hunt with a golf cart?! I loved it!

I teared up as I realized that Alex had planned for friends to be waiting at each station.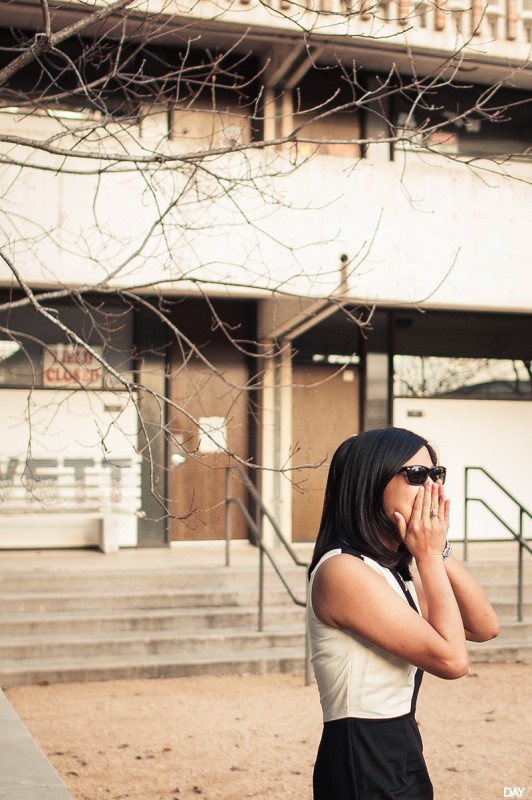 I climbed onto the trampoline (a difficult feat in a dress!) and was ready for my first challenge. Bev and Josh read me quotes from my favorite TV shows (Alex and I love watching TV together) and I had to guess the character and show.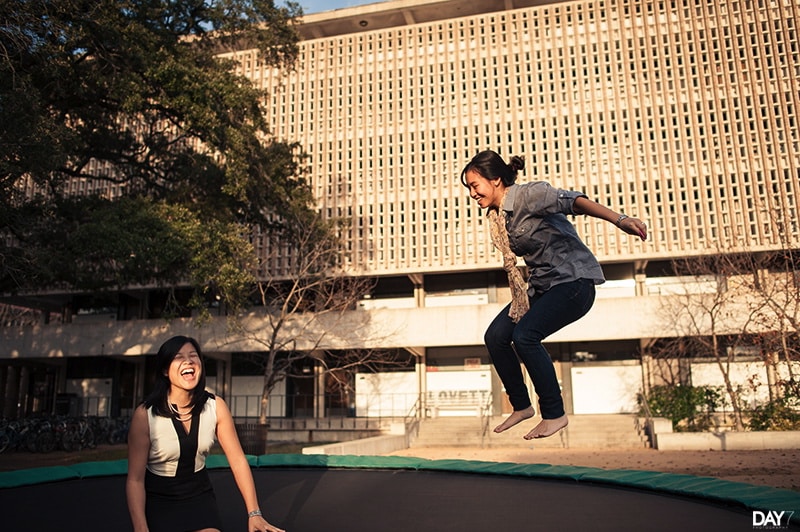 My next challenge here was "Bite the Bag," a game where you pick a paper bag up off the ground with your teeth while standing on one leg (it sounds strange but it is addictively fun!). I found out I was freakishly good at this game two summers ago and it's something I still love to play and teach other people how to play.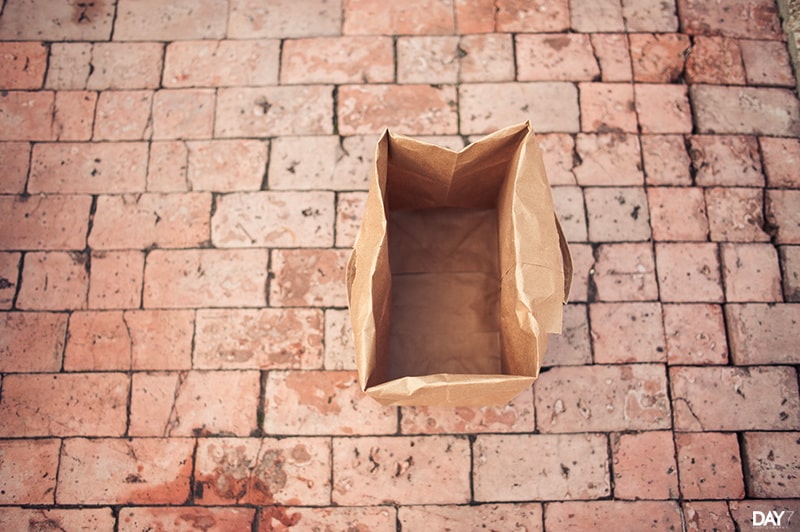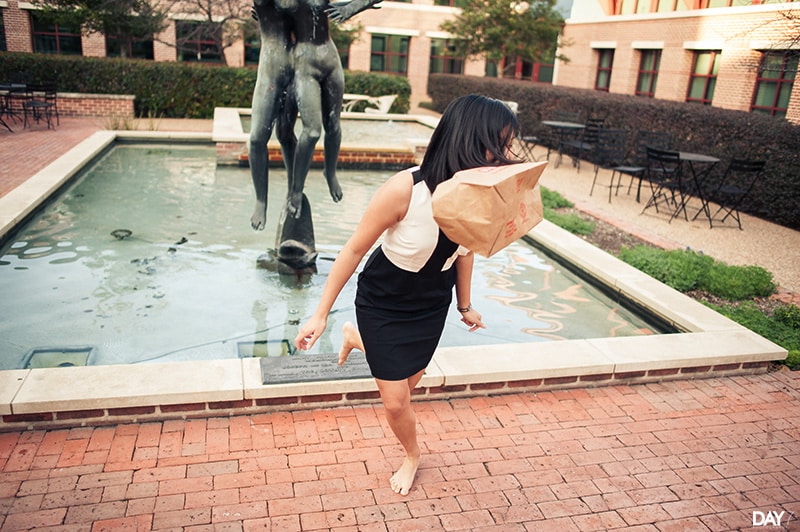 After beating their game, Susan and Tina handed me my next gift and clue.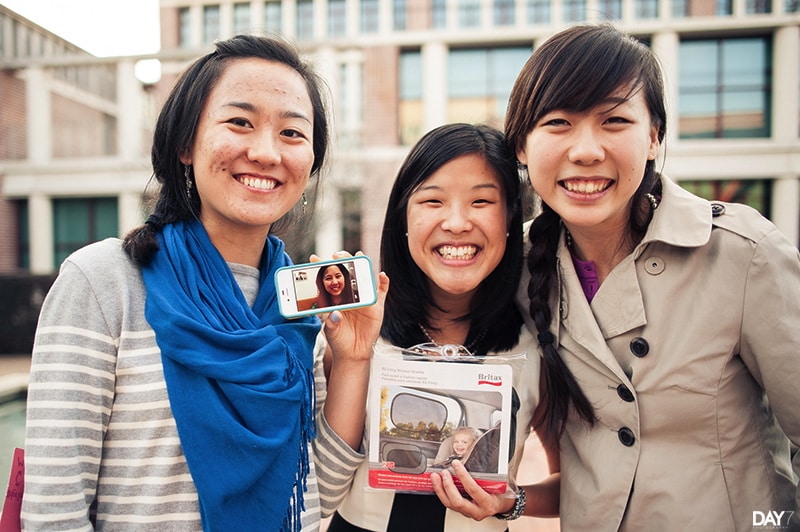 Last year, when I was still a senior at Rice and Alex was in his first year of medical school, Alex would visit Rice to spend time with me and we would take long walks around the campus at night. On one particularly beautiful spring night, we climbed atop 180 and danced in the moonlight. It was a moment of whimsy and pure joy for the both of us.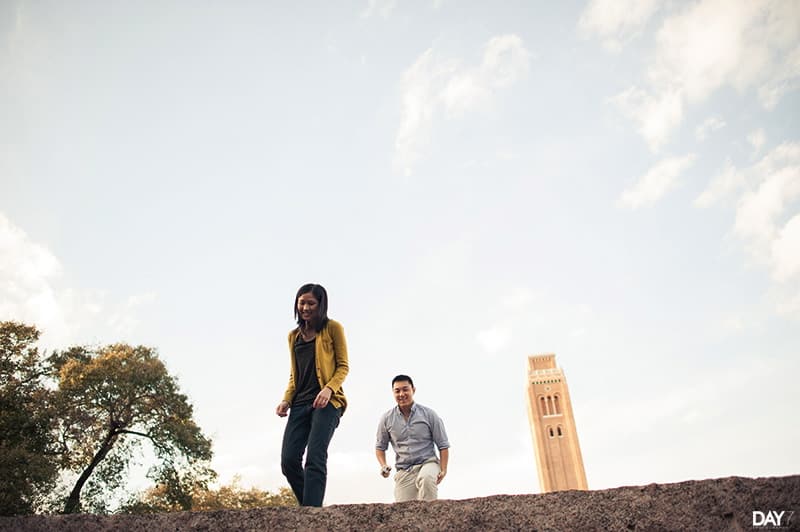 They immediately blindfolded me, sat me down on a pillow, and explained my next challenge: a blindfolded cheese taste test!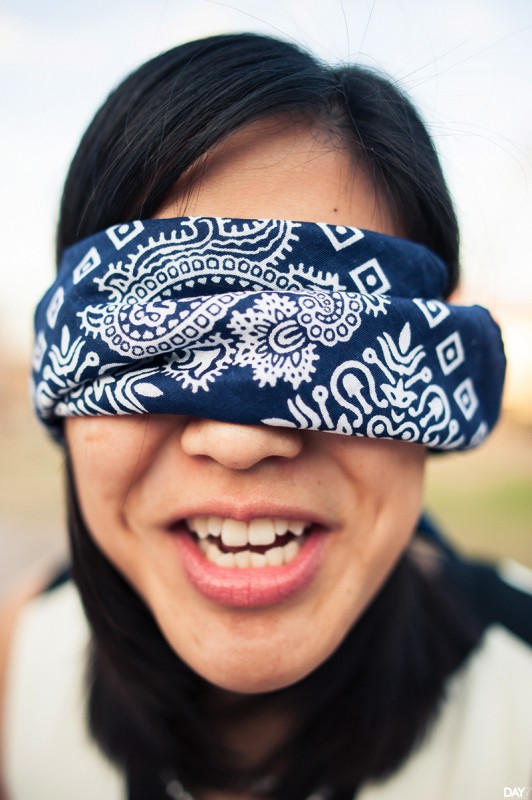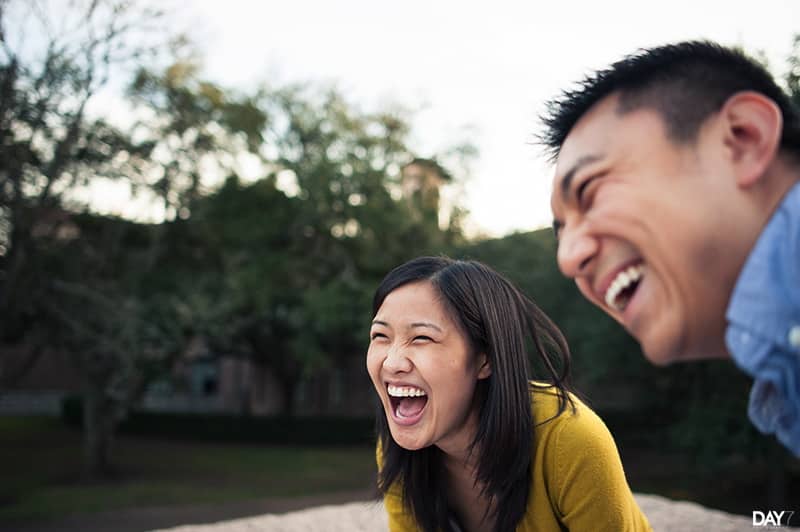 The clue was a reference to "the place where Dillon got his mickey mouse poncho." I knew it had to be Fondren Library.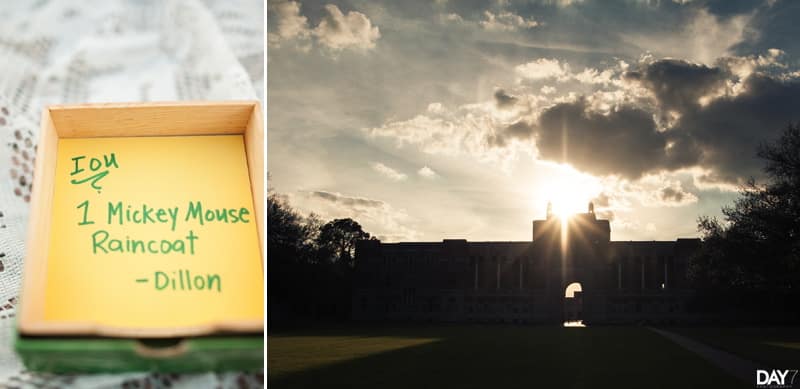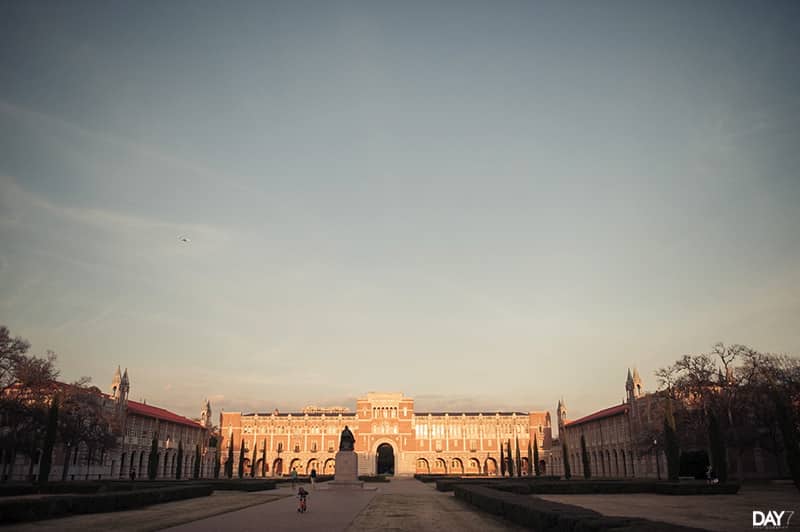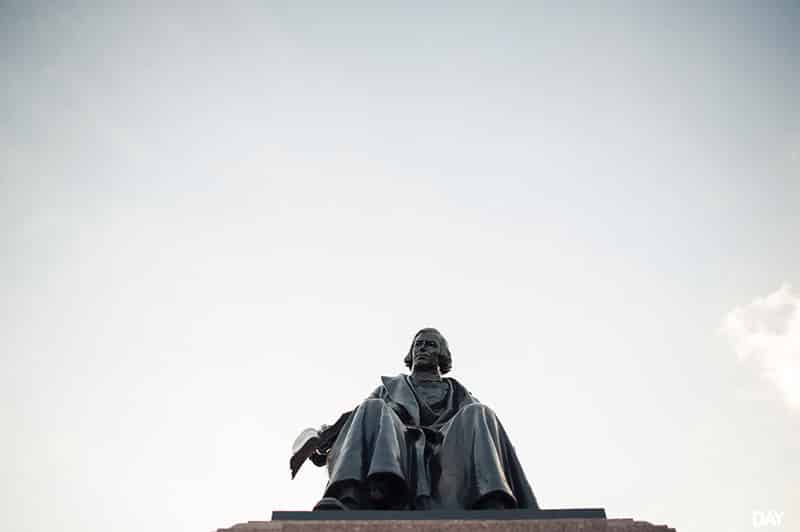 It was the perfect day – sunny with blue skies and a breeze and I was excited to play with Nick and Akhil. I kicked off my heels and walked over to them where they explained my next challenge: binocular soccer!

The present was a Hug-E-Gram, a set of "disembodied mickey mouse arms" that are supposed to give your loved ones a hug no matter where you are (there's a really cheesy infomercial about them which I find hilarious). Alex really gets my weird sense of humor 😛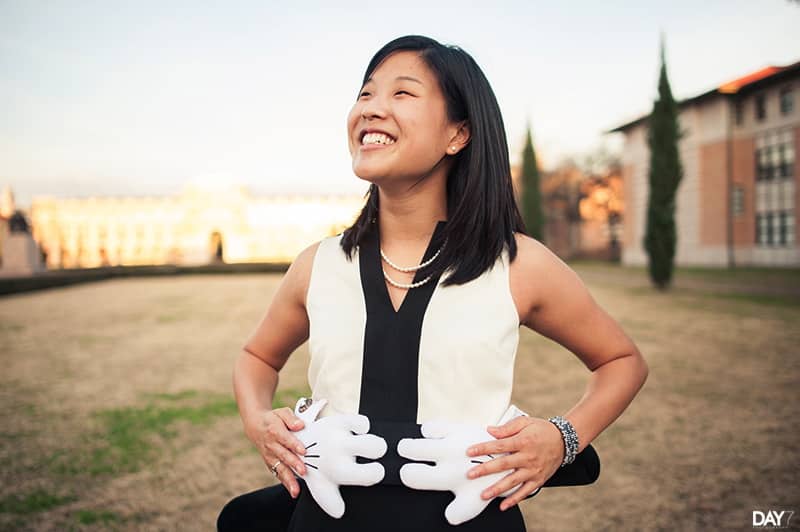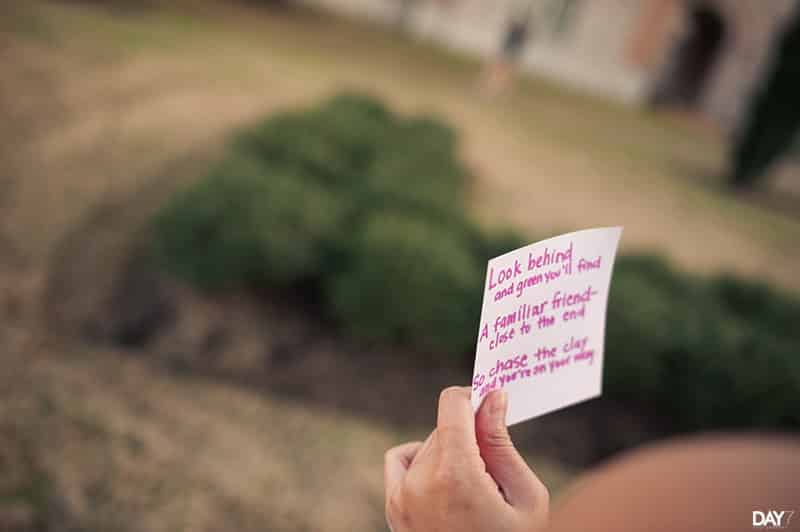 Gumby is one of my favorite people ever. I don't know why I love him so much but he always makes me happy, so much to the point that I actually bought a full-body Gumby costume and ran around the library during finals time handing out cookies.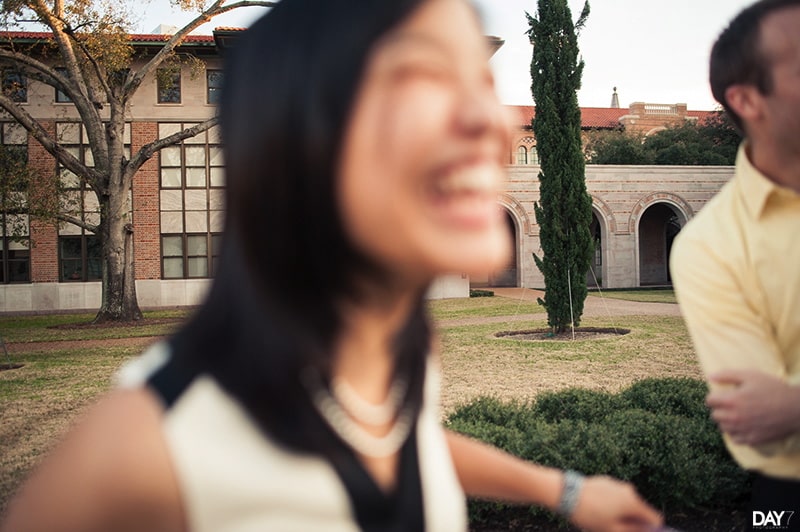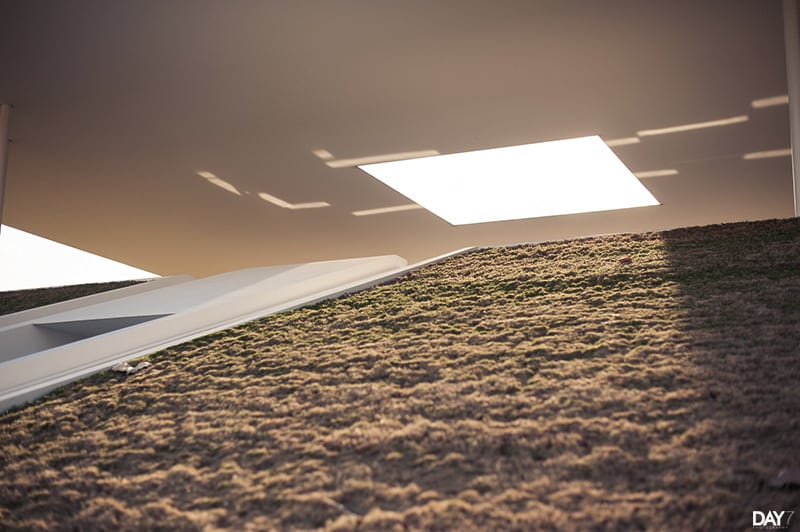 As I approached the building, I saw strangers looking down on me from above and a single figure (Alex!!!) standing inside the lower level. Hannah handed me a bag with all the gifts I had collected along the way and I walked down a narrow stone passageway to Alex.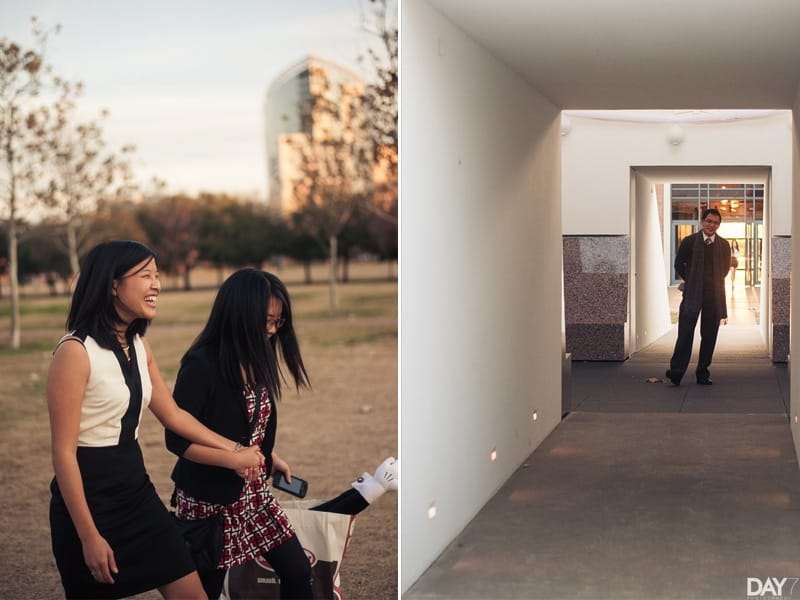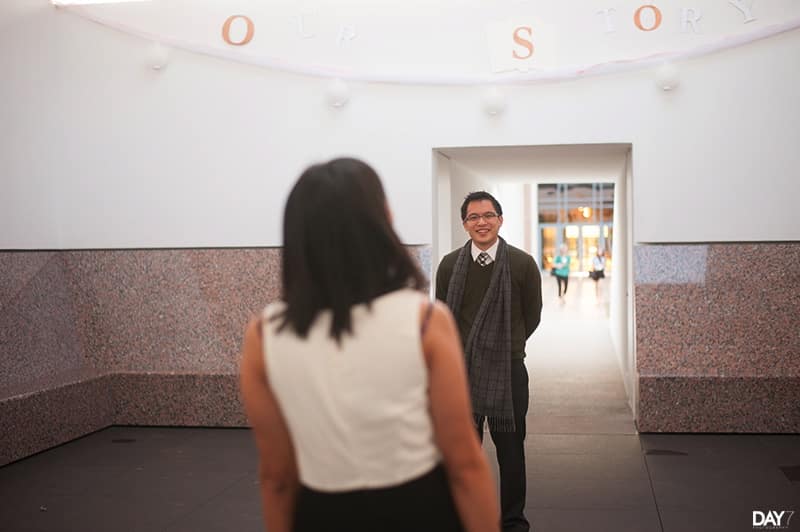 As I walked into the room, I looked up and saw beautiful decorations – soft lanterns and tulle drapings with letters spelling out "Our Story, His Glory" – on the walls. Alex stood waiting for me with a smile on his face.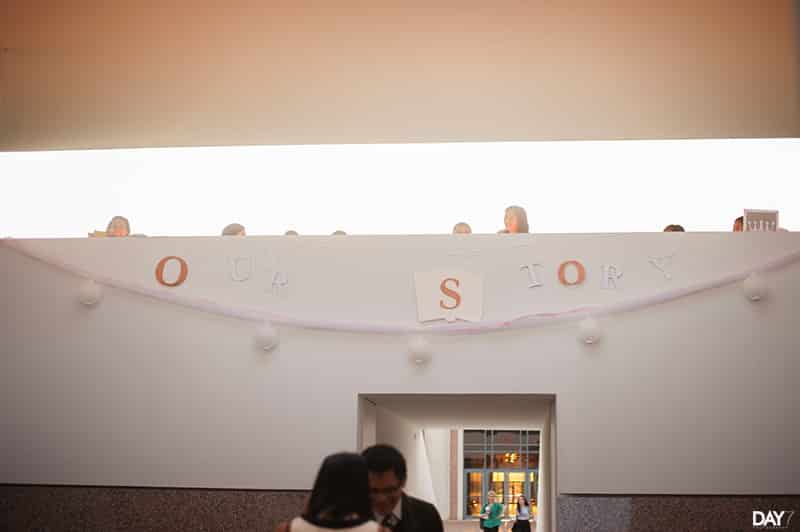 He then gave me my last present – a T-shirt with a corny joke on it (two blocks of cheese holding hands saying "I'll grow mold with you!")…

…then knelt down and opened a ring box then asked if I would marry him (or was to "grow mold with him?").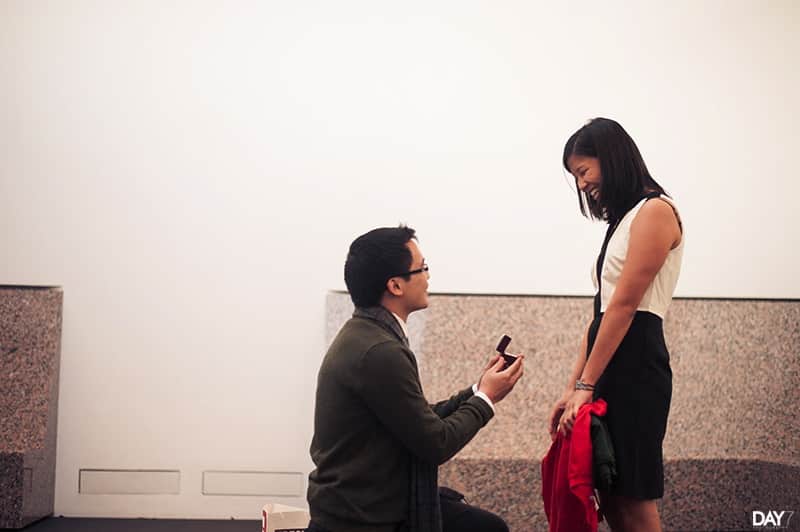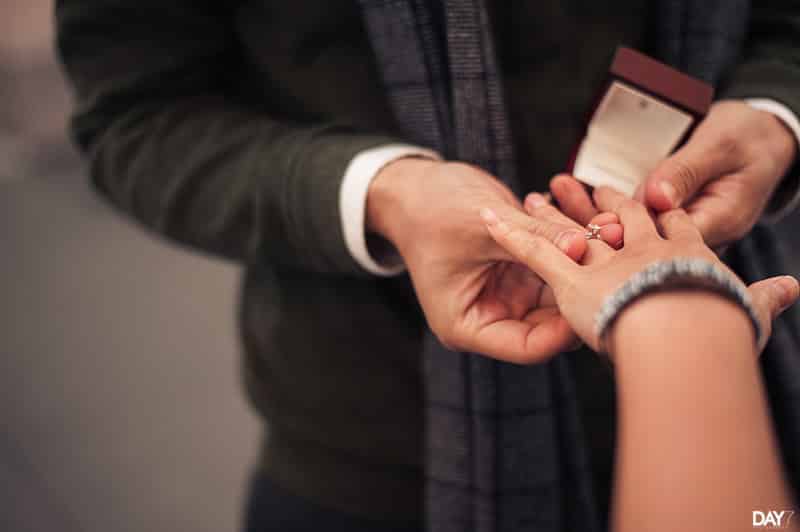 Of course, I said yes!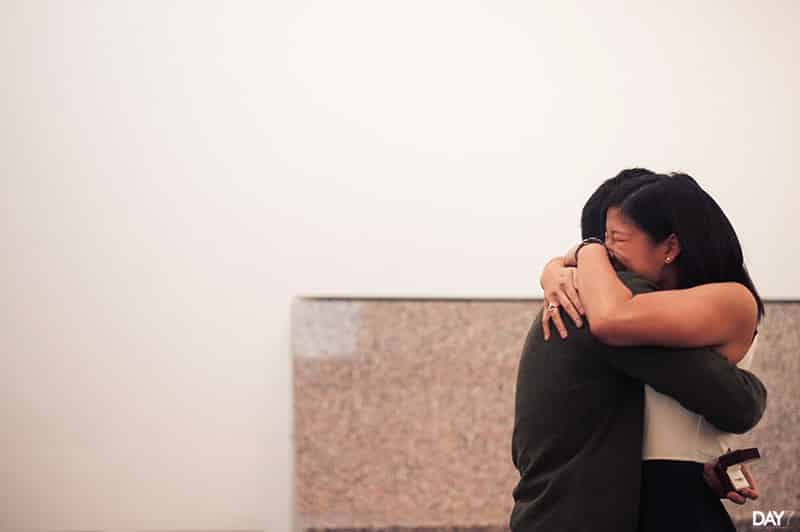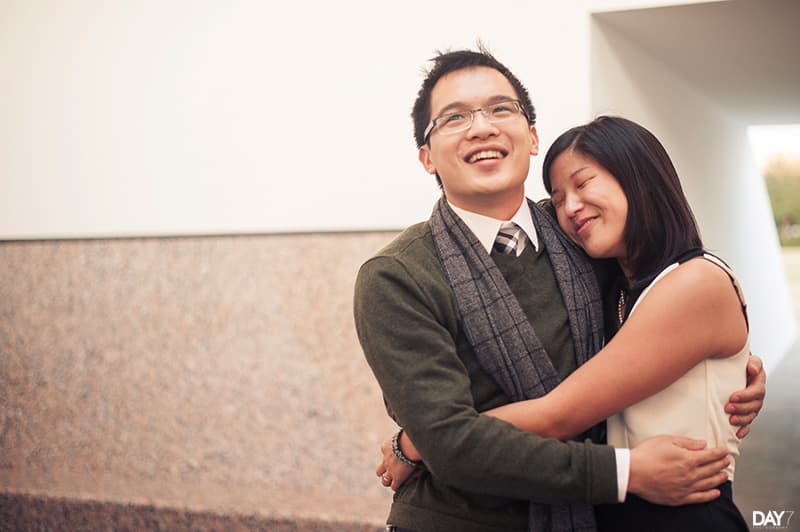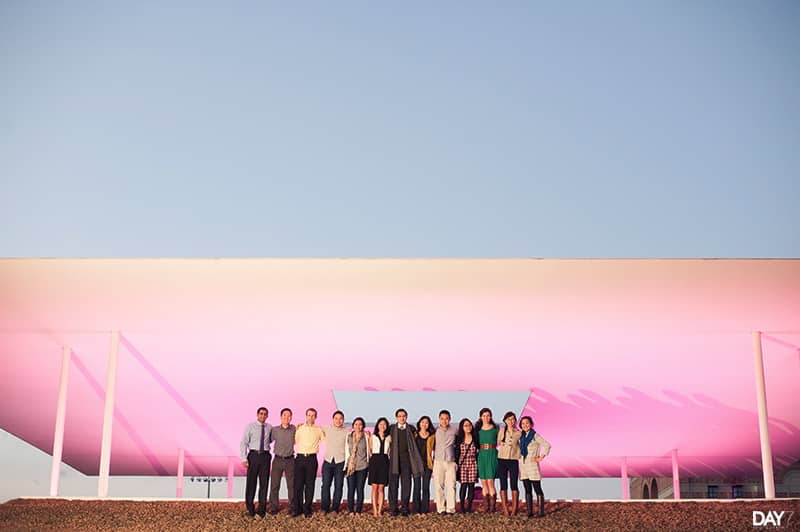 The whole experience had seemed so surreal up until that point, but now that I was with Alex, everything became so clear. The rest of the evening was a happy blur filled with friends, good food, and lots of laughs. I am so thankful and humbled to be marrying a man who loves God and who loves me unconditionally. God is so good to us! – Ann
After the proposal, I grabbed a few shots of Alex and Ann around the Skyspace, so stay tuned for the rest of the photos!
-Sean
Are you ready to begin?
Candid & Organic Wedding Photos for the Nature Inspired Bride & Groom